THE HAIR IS AN EXPRESSION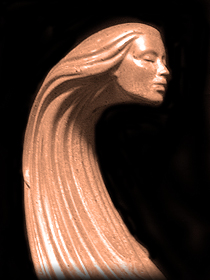 IT EXPRESSES WHAT WE ARE .
AND WHAT WE WISH TO BE .
THE ANCIENT CIVILIZATIONS USED TO SAY THAT OUR THOUGHTS DWELL INTO THE HAIR.
AND, MAYBE IT'S TRUE .
THE HAIR COMMUNICATES US .
IT'S ALSO OUR SKIN'S EXPRESSION .
IT HAS MESSAGE AND SENSUALITY .
IT HAS A BIOLOGIC FUNCTION, BUT WE ORNAMENT IT, GIVING IT A SOCIAL MEANING.
WITHIN ITS CHEMISTRY, THE HAIR KEEPS OUR MOOD AND THE MEMORY OF OUR ALIMENTS.
HAIR IS THE MOST INDESTRUCTIBLE PART OF OUR ORGANISM.
THE HAIR IS THE PROTECTION OF OUR SKIN , THE MEMORY THROUGHOUT CENTURIES OF OUR BODY AND OUR SOCIAL MESSAGE.
MAYBE IN A THOUSAND OF YEARS, SOMEBODY COULD TAKE A LOOK ON OUR HAIR AND TO KNOW SOMETHING ABOUT US.